Here's an idea: resume vs. cover letter looks a lot like salt vs. pepper. Let me explain.
Your resume is like salt: it is a key ingredient necessary to prepare any dish. Or in this case, to get a job.
The cover letter, on the other hand, is like pepper: what you use is to give your dish (your resume) a little more flavor.
But in the end, salt and pepper work best when used together. So it may seem a bit silly to compare the two. Let's do it anyway!
In this guide, you will learn:
What is a cover letter versus a resume?

What should each document contain;

How are the resume and the cover letter different?

How do they complement each other?

What are the successful examples;

If you always need both.
Let's start with an infographic that shows the key differences between the two.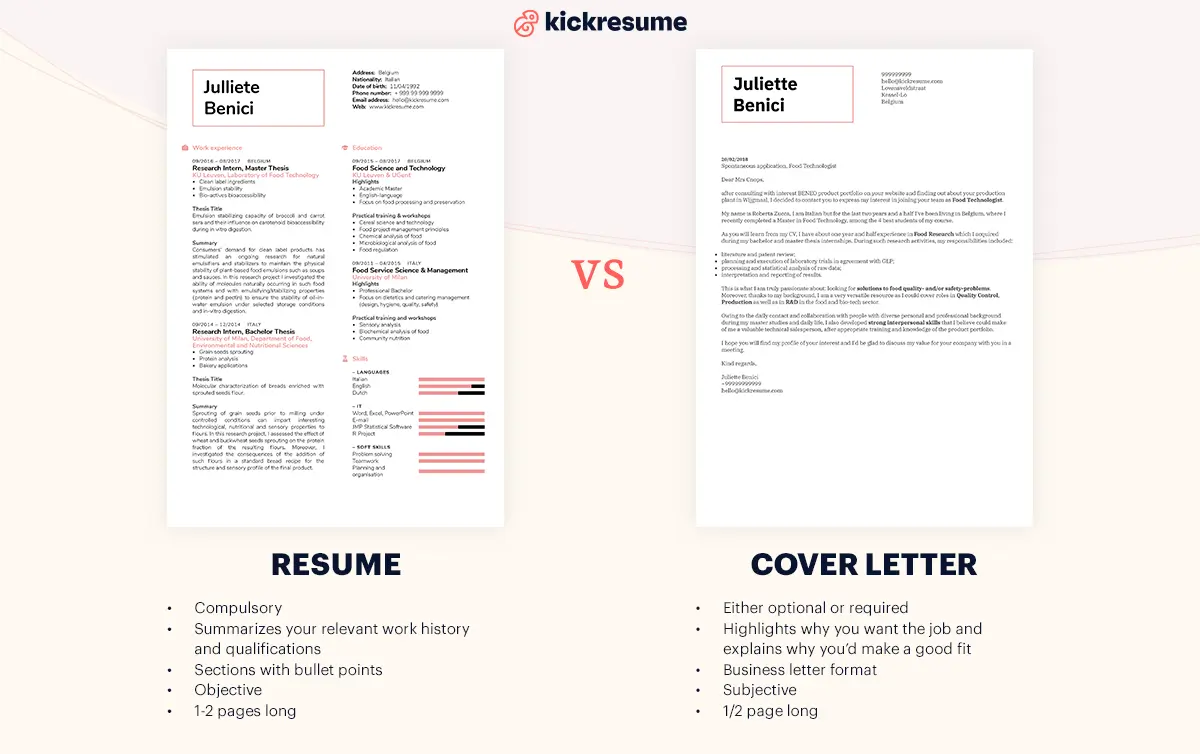 What is a resume?
The resume is the most common career document used by job applicants. If you are applying for a job, you will be asked to provide one.
In the simplest terms, the resume is a concise summary of your education, work history, skills, credentials, and accomplishments. It gives hiring managers a rough idea of ​​who you are as a professional, what your work history is, and your key accomplishments.
It is usually one page long and is written in chronological order.
But generally, you have three options to choose from: in addition to chronological, there is also a functional or hybrid resume format. It is up to you to determine which one works best for you.
What should a resume include?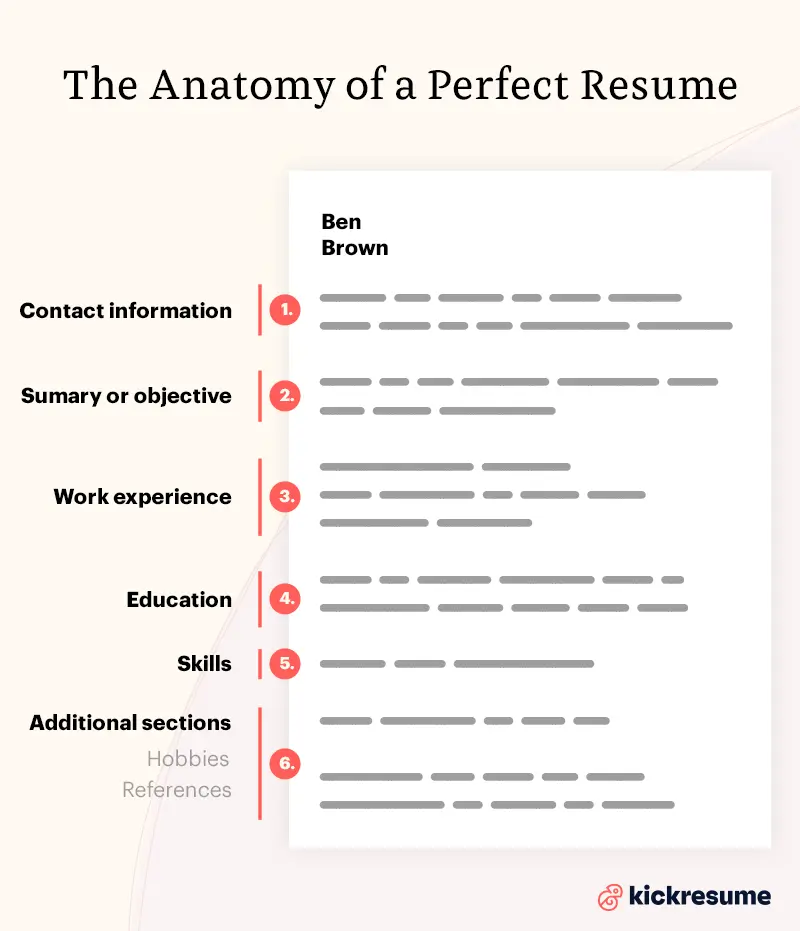 Contact information: Your resume should start with your contact details. Add your full name, title, address (optional), email address, and phone number. In some countries, it is also common to include the date of birth, nationality and photo.
Professional summary or objective of the curriculum: Describe yourself in three sentences. Open with your job title and highlight your key skills and qualifications.
Work experience: The most important part of your resume. List the relevant work history in reverse chronological order. Add 3-5 bullets below each entry to describe your key achievements.
Education: If you are an experienced professional, it is sufficient that you mention your highest degree and the name of the school. If you are a student or recent graduate, feel free to include more details, such as relevant course work, scholarships, or extracurricular activities.
Skills: Choose relevant skills and divide them into various subsections like computer skills, soft skills, languages, and others.
Additional sections: Certifications, courses, awards, strengths, publications, conferences, hobbies, social networks, references, etc. They are all volunteers.
If you're not sure what to write in specific sections of your resume, you can check out our step-by-step resume guide.
But if you prefer watching videos to reading, you might also like this 5 minute video guide to writing the perfect resume.
What is a cover letter?
Also something you use to help you get a job… But!
First of all, it is not always mandatory.
Second, even if it is, it only provides additional information to your resume and should never repeat the same content.
It allows you to explain other things that are impossible to express through the curriculum, such as:
explanation of why you are applying for the position

supporting evidence why it would be a good fit

examples of how it can be beneficial to the company

details about the job gap or less work experience

your personal story

your motivation and ambitions
You usually attach it along with your resume and serve as an introduction to a hiring manager. The ideal length of a cover letter is 3-4 paragraphs.
What should a cover letter include?
Date and contact information: List your contact details such as full name, title, email, phone number, address (optional), and the date at the top of the page. Also, add company information such as company name, department, and address.
Headline: Use interesting numbers, questions, or adjectives. Something like "Five Ways I Can Help You Improve Your Business Marketing".
Personalized greeting: Research the name of the hiring manager online – LinkedIn is the perfect tool for this. If you can't find it, use "Dear Mr / Mrs".
1st Paragraph: Introduction: Please use this space to introduce yourself in more detail and explain why this job is exciting for you.
Second paragraph: Why it fits perfectly: Write a brief summary of your career and skills, and tailor it to fit the needs of the company.
3rd paragraph: Why the company is right for you: Let them know why you are attracted to them. What excites you about working there? What do you want to learn?
Final paragraph: Finish strong and repeat why you fit in well (points 5 and 6). Also, explain how and when you will contact them.
Firm: Use a formal signature like "Sincerely" (US English) O "Yours sincerely" (British English) + your full name.
Take readers on an exciting journey – don't tell them what they already know! Try to answer the basic questions: Because you? Why this company? Why this role?
7 differences between cover letter and resume
| | | |
| --- | --- | --- |
| | Resume | Presentation letter |
| Document type | required | either optional or mandatory |
| Purpose | provide information about your work history and qualifications | Introduce yourself and convince the hiring manager that you are the right candidate for the position. |
| Contents | summary of skills, work experience, education and achievements | key qualifications you have for the specific job, background information |
| Information | objective facts | subjective interests, motivations and ambitions |
| Format | multiple bulleted sections | letter with 3-4 full paragraphs |
| Tone | professional | more conversational |
| Long | usually 1-2 pages | usually 1/2 page |
Document type: When you apply for a job, you are typically asked to provide a resume. That's a basic document hiring managers use to filter job candidates. On the other hand, cover letters, while often necessary, are sometimes optional. This depends on the requirements of the specific job.
Purpose: The purpose of your resume is to summarize your work history and qualifications. Whereas the main purpose of your cover letter is to sell those qualifications. You need to introduce yourself to the hiring manager and show how your experience and skills make you a great fit for the job.
Contents: Your summary It should contain key information about your employment history and professional background. A cover letter should help the hiring manager interpret that information. For example, you may have a job gap on your resume and in your cover letter, you can explain why.
Information: Any resume is mostly about facts. Rather, your cover letter should contain more subjective information, such as your reasons for applying for that job, why you are passionate about your industry, or why you would be a good fit. It is a place where you can show a bit of your personality.
Format: A resume is divided into several sections like work history, education, skills, etc. and you should use bullets under each section. On the other hand, a cover letter is written in letter format and consists of 3-4 full paragraphs. Includes title, salutation, introduction, body content, conclusion and your signature.
Tone: Resumes have a more professional and formal tone. In your cover letter, you can use a more conversational tone and give it a more personal touch. This goes hand in hand with the fact that resumes are quite objective and cover letters subjective.
Long: Your resume should have one page. This, of course, depends on where you are in your career. But your cover letter should never go longer than 3/4 page (no matter what your professional level is).
How the cover letter and resume complement each other
Although there are multiple differences between the two, they complement each other.
Just put – Think of your resume as an outline for your cover letter story.
Similarly, you can also think of your cover letter as a primer for your resume. It allows you to translate raw data from your resume into an easy-to-read letter that demonstrates your key skills and abilities. Ultimately, the purpose of your cover letter is to have your resume read.
They should also complement each other in terms of design. Make sure your cover letter template matches the resume template you chose. Makes you look more professional. (For example, Kickresume allows you to do that).
In the end, both documents will give you the opportunity to present your "elevator pitch" and will help you land a job interview.
Cover letter and resume examples
Let us now see how it should be done in practice. Below you can find an example of a resume and cover letter written by a real job applicant who got a real job at a real company (it's all a real story and very real).
These examples can teach you a bit about the content and style of your resume and cover letter. You can even use them as your first drafts to help you get started.