Known for its beautiful castles, sausages, beer, dirndl and Volkswagen, you may also fancy joining Germany's economic powerhouse and enjoying a life of comfort and social security.
But for a foreigner, especially one who is not fluent in German, finding a job in Germany can be challenging. Don't worry though, in this article you can learn how to apply for a job in Germany and get it.
Should we start?
Is it easy to get a job in Germany?
It depends on your area of ​​expertise. Jobs like doctors, nurses, engineers, or IT specialists are always in high demand. If you want to see how easy it is to find a job in Germany in your industry, please fill out the "Quick Review" form on the Make it in Germany website. With just a few clicks, you can see what your chances are of finding a job in Germany based on your professional experience and your country of origin.
Sprechen Sie Deutsch? Although it is possible to find a job in Germany speaking only English, knowing German will increase your chances. Of course, there are many international jobs that only require the English language, but these tend to be more competitive, so speaking at least some German is a great advantage.
If you have difficulties finding something suitable, you can always contact the "Hotline Living and Working in Germany". This free service is there to listen and provide you with personalized advice regarding your job search. Feel free to reach out to them by phone, chat, or email if you think you might need one-on-one help.

How to apply for a job in Germany?
Get a Visa. Research the rules regarding visa requirements properly and make sure you meet all the requirements for work entry and stay.
Get health insurance. Don't forget this one! This is mandatory from the day you cross the German border.
Look at the official job center or one of the job portals. Take a look at the official Federal Employment Agency. Otherwise, you can always browse numerous job portals, there are more than 1000 of them. Popular ones include Stepstone and Indeed, just to name a few.
Once you've covered these basics, create your resume and cover letter, hit submit, and hold your breath.
Work visa in Germany
The first thing to do when looking for a new job in a foreign country is to find out what type of visa and other residence permits you need. Oh, and don't forget to find out if your school degrees and other qualifications are also officially recognized in Germany.
You are from:
European Union, Liechtenstein, Switzerland, Norway or Iceland? So it's easy. You do not need any type of work visa or residence permit and you can come and stay as long as you want.
The United States, Canada, Japan, South Korea, Israel, Australia, or New Zealand? You are allowed to come to Germany and stay there without a visa for up to 90 days (as a tourist). If you also want to work there, you will also need to apply for a residence permit.
Apart from the countries listed above? You will need to apply for a work visa. That means you must get a signed employment contract before entering Germany.
When applying for a visa, contact the German embassy in your country. Always make sure you give yourself enough time as it may take a while before the work visa ends.
However, there is an exception to this rule: have a college degree. People with officially recognized higher education degrees can apply for a six-month visa without a contract and search for their new job in Germany in person.
For more information, see the German visa regulations.
Tips for German-specific CVs and Cover Letters
If you want to find a job in any country, you will first need to create a resume (and possibly a cover letter) to apply. Fortunately, good resumes are alike no matter the country. Thanks to that, your CV in German only needs to take into account a few regional details.
(Mainly) German-specific resume tips
Keep it clear and simple. Germany's work culture is based on efficiency. Don't overdo it with stylish designs and keep the images stylish. Also, the standard length of the resume is 1-2 A4 pages.
Keep it factual. Unsurprisingly, your typical German resume is realistic and packed with hard facts. The text should be clear and inexpensive but at the same time highly informative. No fancy phrases or elaborate statements.
Describe your previous jobs. Your potential new German employer may have no idea how important the company you worked for is in your home country. Describe your past work experience and list the most impressive things you have accomplished in your previous job. Make sure the description matches the requirements of the job you are applying for.
In other words, provide context. The same applies to your other achievements. For example, if you attended a highly rated university in your home country, be sure to mention it.
List your previous international experience if you can. Show employers that you have no trouble adjusting to life and work in new cultures.
The rest are the basics:
Make your resume chronological. Describe your work experience, then your education, both in reverse chronological order (starting with your most recent job).
Include personal information. In Germany, it is common to include your address, date of birth, nationality or marital status.
Add a photo. Place your professional passport-style photograph in the upper right corner of your resume.
Attach other documents. It is common to attach copies of supporting documents with your resume, such as diploma certificate, references, or certificates.
If you think you need more inspiration, check out our resume samples (you can even filter them with the keyword "Germany").
(Mainly) Tips for German-specific cover letters
Again, be sure to be direct, clear, and informative. Emphasize your experience and willingness to work – Germans are known for their hard work and efficiency.
Don't waste words, but be clear about your ambitions and passion for the work you do. Also, try Avoid emphasizing how much you want to live in Germany or Europe.. Rather, focus on the job title you want and the specific reasons you are doing it.
To see some examples, take a look at these cover letter examples.
German job search engines
As already mentioned, first look at the official employment center of the Federal Employment Agency.
Otherwise, the most popular job portal used by 39% of all job seekers is Indeed. They are followed by Monster, Stepstone, Jobbörse and Xing.
If you are only looking for English speaking jobs, take a look at ExpatJobseeker.de, English Jobs Germany, Germany Startup Jobs or The Local.
Don't underestimate the power of LinkedIn. This platform is also widely used in Germany.
Finally, the EURES portal can be very useful if you are a young European looking for work in another European country. Not only does it come with a list of various job offers, but if you are willing to go through all the paperwork, you can receive a relocation fund and additional monthly payment from the respective EU initiative. I myself have found a great temp job through this portal and, apart from the complicated bureaucracy, the experience with it has been great.
Volunteer jobs in Germany for foreigners
Volunteering is always a great way to improve your CV. Show that you like interacting with your local community and show your future boss that you have the motivation to improve yourself and the world around you.
When it comes to volunteering in Germany, your English may be the biggest advantage. Check out the Go Overseas portal as it offers a number of volunteer opportunities. These typically include teaching or community service work.
Again, be sure to obtain your visa and residence permit before attempting to enter the country.
Summer jobs in Germany for foreigners
Are you tired of lazy vacations and prefer to spend your summers gaining additional experience? If you do, there are many openings for summer jobs in Germany listed on Glassdoor. If you are coming from an EU country, consider looking at Erasmus Intern, where you can find summer internships for students or recent graduates.
Of course, if you are not a student, you can always try looking for seasonal jobs. The most popular seasonal jobs in Germany include: waiter, field worker, builder, miller, mechanic, rancher.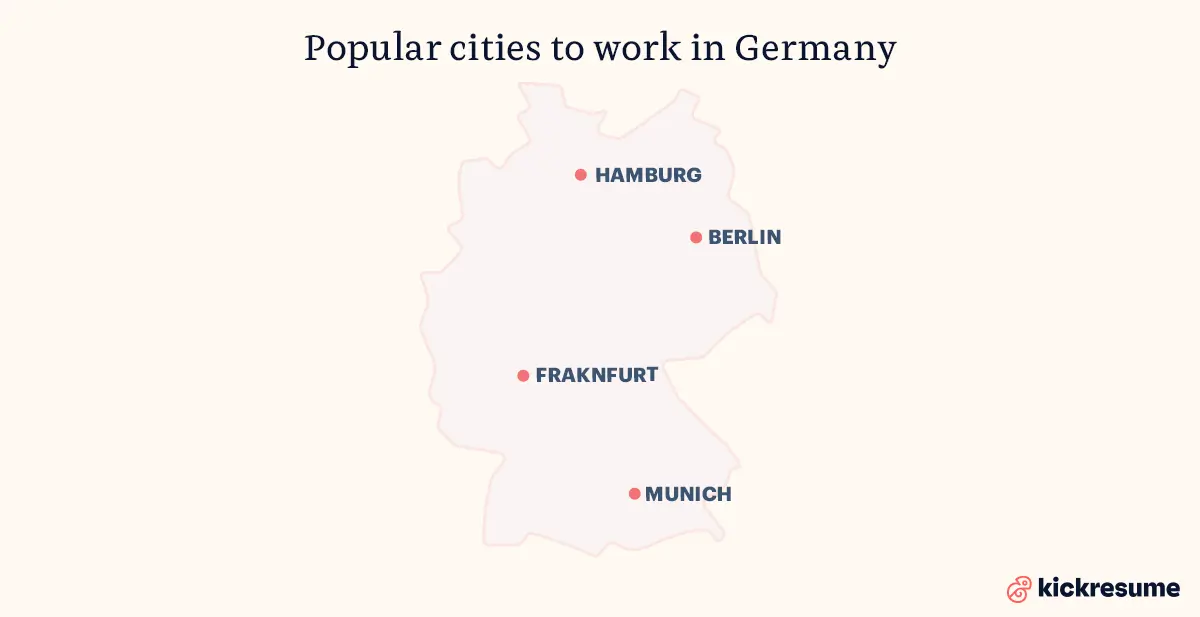 Popular cities to work for in Germany
Sedan, of course. This fantastic international venue is a hub for expats in Germany. With more than three million citizens, Berlin has no shortage of job opportunities, ranging from burgeoning startups, jobs in the creative sector, or branches of various international companies.
Frankfurt, the economic capital of Germany, is lined with skyscrapers and banks. If you are looking for a job in finance or banking and you live in a comfortable city that is not too big, Frankfurt is the place for you!
Munich, With a population of over a million and a half, it is a great place for an international job seeker due to the nearby headquarters of Siemens and BMW, which are located here. And don't forget the Oktoberfest which attracts millions of people from all over the world every year!
Hamburg it is the second largest city in Germany, located in the north. It not only has the third largest port in Europe, but also a thriving start-up scene. If you are considering finding a job in banking and finance and prefer a city with a relaxed atmosphere, this may be the place for you!
US companies hire in Germany
The German economy is highly dependent on its automobile production. That is why it is home to regional Ford and Opel branches that employ hundreds of thousands of people.
Apart from that, Amazon, Apple, Exxon, Google, all these world famous companies have large offices located in some of the biggest cities in Germany.
Wages in Germany
In Germany, you will earn more as a doctor (92,000 euros gross annual salary). Jobs in finance, law, consulting, IT or human resources closely follow.
At the same time, German wage averages to 42,400 euros per year, with Minimum salary being 19,368 euros per year.
Generally speaking, life in Germany comes with a comfortable salary (in exchange for hard work), as well as plenty of vacation days, extensive maternity leave, affordable health care, and an overall good quality of life thanks to its tax system. and to the emphasis of the government. on social welfare.
We all know what COVID has done to the job market. Job availability during the COVID-19 pandemic again depends on your specialization. Stations such as waiting tables are no longer in as much demand as they used to be, but doctors, engineers or IT specialists should have no problem finding work in Germany, even during the pandemic.
The most important thing is to make sure you have the right to enter the country. Germany has recently gone through a series of severe lockdowns, but the rules vary from Bundesland to Bundesland (the federal states of Germany), so don't forget to research the rules for your region that you have chosen correctly.
You can see all the limitations, regulations and rules that are linked to entering Germany from different countries on the website of the Federal Ministry of Health.
And that is! Good luck with your job search!
However, if you feel that this European country is not the right one for you, on your blog you can find out how to find work as a foreigner in Japan, Australia, New Zealand or Canada.