If you are lucky, you will be able to see Mount Fuji as your flight descends to Tokyo.
And it is quite a majestic sight.
Japan's iconic volcano in all its glory, surrounded by enchanting forests, traditional Shinto shrines, and modern buildings.
You could say that this is Japan in a nutshell. A mix between old and new, tradition and modernity, nature and the work of man.
It's no wonder why you wonder how to find a job in Japan as a foreigner.
In this comprehensive guide, you will find tips to help you navigate the job landscape in Japan.
Is it easy to get a job in Japan?
Ok that sounds great and all, but is it easy to find work in Japan as a foreigner?
It depends on the type of job you are looking for. Is it a low, medium or high qualification job?
The truth is that Japan has been quite strict when it comes to migration, with low- and medium-skilled jobs virtually unattainable for foreigners.
However, the times they Are a changing And due to its aging population and low birth rates, Japan has been reevaluating its immigration policies. Opening of space for foreigners to apply medium skill jobs, such as care and construction work.
That being said, low-skilled jobs are still not the way to go if you want to find a job in Japan, although that could change soon too.
When it comes to highly skilled jobs, Japan is much more lax with its immigration policies. This is particularly true if your skills are in demand. However, keep in mind that Japan has a highly educated population, so the job market is very competitive. Of course, this difficulty is reduced if:
Speak Japanese

Have a college degree

Have more than 3 years of experience in a particular highly qualified area.

You are a language teacher
The latter in particular is the easiest way to find work in Japan as a foreigner. Especially if you are a native English speaker and looking to teach English. You can find more information about teaching in Japan later in this article.
If you want to stay within the Western Hemisphere, see: How to find a job as a foreigner in Canada.

How to apply for a job in Japan?
Like applying for a job in your home country, it is always worth being prepared before applying for a job. Here's what you need to put in order before applying for a job in Japan:
Curriculum vitae / cover letter:

Japan has a different approach than Western countries when it comes to resumes and cover letters. It is essential that you understand these differences before submitting them. You can find more details in the next section, "

Tips for Resumes and Cover Letters

".

Job search engines:

Generally, you want to wait until you have your visa before you start looking for work abroad. However, in Japan, the best way to get a visa is to have a company sponsor you. So in this case, this is one of the first steps you need to take. We have a chapter below where we list the foreign-friendly job search engines.

Certificate of EligibilityY: This is a necessary document before you can apply for your work visa. If you are abroad, it is usually done by the company that sponsors you. You can find more details in the next section, "Japan work visa".
Visa:

Japan is very selective in granting visas and since there are many types of work-related visas, it is important to apply for the one that fits your criteria. You can also find more information in the section "

Work visa in Japan

".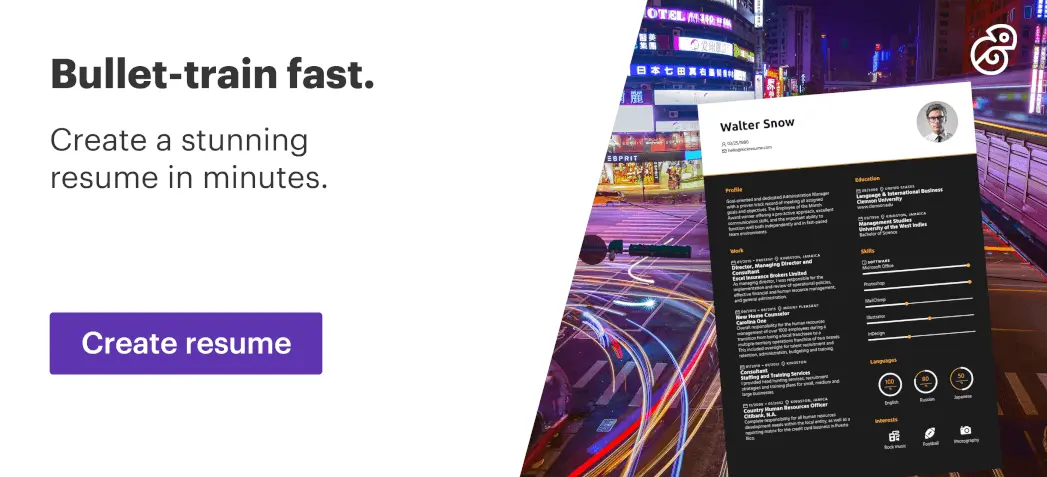 Work visa in Japan
As with most countries, Japan requires a work visa if you want to work in the country.
And as you would expect from a bureaucratic process, there are a few things you need to prepare for before you can start applying for a work visa.
This is what you need:
Certificate of Eligibility

: This document is normally requested by your potential employer in Japan. It certifies your nationality, the type of visa you will be applying for, and also designates your Japanese sponsors (usually your employer) who will act as sponsors for your visa.

recent photo

:

Take the photo facing forward and with a blank background. It should then be trimmed to 4cm x 3cm (1.5 "x 1.2"). Also, be sure to add your name to the back of the image if you are mailing it to Japan

Immigration office

.
Apply for a work visa in Japan
Since there are a variety of jobs, there are several categories of work visas (30 of them!) That you can apply for in Japan and each has its own unique set of requirements.
That said, most foreigners fit into these three main categories of work visas:
1. Basic work visa: This is the most common visa granted to job seekers in Japan. It requires a college degree, a company sponsor, and lasts between 1 and 3 years (depending on your sponsor). Here are some examples of who can apply for a basic work visa in Japan:
Artist

Business manager

Journalist

Instructor

Skilled worker

Medical services

Engineer

Transfer within the company
2. Specific Skill Visa (SSV): This visa is Japan's answer to its labor shortage. It was introduced in April 2019 and will allow 345,000 foreign workers to enter Japan. It is granted for a period of 5 years and is limited to renewals.
Also, know that you must be fluent in Japanese to apply for this visa and you will not be allowed to bring your family members.
The SSV visa covers the following job functions:
Food and drinks

Restaurants / catering

Hospitality

Nurse care

Processing of materials

Building

Industrial machinery

Car maintenance

Naval building

farming

Fisheries
3. Highly qualified professional visa: This visa was introduced in 2012 to bring highly qualified professionals to Japan. It is for those with advanced careers, such as senior business managers, specialized technical workers, and academic researchers.
Please note that in addition to meeting required job skills, this visa is awarded to applicants who score higher on a "point" system. This system is based on your skills, age, and fluency in Japanese.
For more information on Japan Visas.

Tips for Resumes and Cover Letters
Resume
When building your resume for the Japanese job market, apply the golden rule of Zen minimalism: less is more.
That means stepping away from flashy and "kawaii" resumes and instead opting for something more traditional, along the lines of a resume (CV). Similar to what you would write in academia.
Also, keep in mind that it is common in Japan to include personal information that you would not normally include on an American resume.
For example, this is what You will usually find in the contact information section:
Head shot
Name
Nationality
Age and date of birth
Visa status
Speak to
Email
The rest of your resume should be similar to what you would write in your home country, it should be in a chronological style and include your professional summary, work experience, and education.
Hobbies or other staff-related resume sections are not as common in Japanese resumes, but you can include them if you think they align with the job you are applying for.
If you need inspiration, check resume samples (The minimalist resume template is perfect for Japan.)
Presentation letter
As with the resume, Japanese cover letters should be simple and to the point.
Write it the same way you would write it at home and stay focused on work, not Japan.
However, it is a good idea to indicate how you could add value to the company even if it is from abroad.
If you are unsure of cover letters, these cover letter samples can point you in the right direction.
Japanese job search engines
There are many websites where you can search for work in Japan as a foreigner. However, they are not all the same. Here are some foreign-friendly websites that you can use to find work in Japan:
Gaijinpot

: This online platform aimed at foreigners is intuitive and easy to use, you can find thousands of job offers ranging from entry level positions to higher level positions.

Daijob

:

Similar to Gaijinpot, you can also browse through thousands of job openings ranging from various levels of experience. However, it is good to note that most non-language opportunities require a high level of Japanese (JLPT N1).

Jobs in Japan

: Started by an American who wanted to help foreigners navigate the Japanese career landscape, this popular website has a variety of

Job openings ranging from teaching English to web development and more.

Race cross

: This easy-to-use and straightforward website offers a large number of job listings to browse. Similar to Daijob, most non-language job postings require an advanced level of Japanese.

(JLPT N1 or N2).

wanted

:

An online platform that is perfect for those who are inclined to tech jobs. However, a proficient level of Japanese is required for most job postings (JLPT N1 or N2).
If you can't find what you're looking for on these websites, another option is to use job search engines you're familiar with, such as LinkedIn and Indeed. These two websites have been gaining popularity in Japan and if you already have an account, all you have to do is change your location to Japan and you are good to go.
How to find an English teacher job in Japan
As we said before, most of the jobs available for foreigners in Japan are those related to the language. The easiest is if you are a native English speaker. In such a case, in addition to using job search engines, you can apply for jobs at private language schools such as:
New star

Gaba

EON

Berlitz

BEstudio
Another option to teach languages ​​in Japan as a foreigner is to go through the Jet program, which is run by the Japanese government. However, this is a very competitive program. However, if you manage to get in, it is worth it as it is said to have great benefits.
Volunteer jobs in Japan for foreigners
Most foreigners seeking volunteer work in Japan do so on a tourist or work-holiday visa and volunteer with an organization such as WWOOF in Japan. Another good organization to apply for volunteer work would be Japan Cat Network.
Both offer great opportunities for discounted and sometimes free room and board. Sounds great! You can save money so you can spend it somewhere in Akihabara.

Popular cities to work in Japan
Unless you are going to work as a language teacher in Japan, most jobs for foreigners will be centered in Tokyo. This is especially true if your Japanese is lacking.
However, this does not mean that it is impossible to find work in other cities, it just requires a little more work. These three bustling cities can also be a good place for a foreigner looking for work in Japan:
Kobe: Yes, Kobe beef is wonderful and so is the lovely laid-back city from which it derives its name. To top it all, this city is full of international schools.
Osaka: Osaka's foreign population is over 200,000. It is a great city for those looking for work in the industrial sector. And if you like it, Osaka has a thriving nightlife.
Kyoto: Like Tokyo, Kyoto was once the capital of Japan. Smaller and more charming, Kyoto blends traditional and modern architecture in a way that just works. It can be quite touristy in the summer, but that means it is easier to mix with other English speakers.
Summer jobs in Japan for foreigners
If you have already obtained a visa to work in Japan, you can find summer jobs on the following websites:
Keep in mind that these jobs will likely be part-time, low-skilled, and will require fluent Japanese. If your Japanese is still not up to the mark, the English job search option is still available, however it will take you a little longer to find a job and it will be more difficult to answer the annoying job interview question. "Why should we hire you? ".
American companies hire in Japan
There are many American companies with branches in Japan.
It may be that you already work in one and it would not hurt to check if they are currently hiring in Japan.
If they are and you are qualified for the job, then the answer on how to find a job in Japan as a foreigner could be solved as this is an easy way to get an intra-company transfer visa.
For those who are not so lucky, these American companies have branches in Japan and are constantly looking for places to cover:
Goldman sachs

Disney

Boeing

Procter & Gamble

Johnson and Johnson

Hard Rock Cafe

Tony Roma
Salaries in Japan
Ok so how much should I expect to get paid in Japan?
It depends on a few factors, like how much experience you have, your level of education, and if your skills are in demand.
If, for example, you want to work in the hotel or food industry, your salary would be around 2.0 million to 2.8 million yen ($ 18.3 – 26.6k in USD).
On the other hand, if you have a university degree and want to work as an English teacher, you can expect to do between 2.8 million to 3.96 million yen ($ 26.6 – 34k in USD) per year after completing the Jet Program.
In the end, the average salary for a foreigner working in Japan is 2.5 million yen ($ 22.8K in USD).
It may not sound like much if you come from a western country, but keep in mind that this kind of money allows you to have a very comfortable life in Japan.