Not sure which sections of the resume are required and which are optional? Having trouble organizing the sections of your resume?
Sometimes you may feel like what you have is not enough and then overcompensate by trying to include as many categories on your resume as possible. In these cases, it is good to remember the golden rule: less is more.
Instead of trying too hard and ending up with a messy resume, stick to what is necessary. And add the optional sections that will complement you based on your profession.
In this guide, you will learn:
Which 5 sections of the resume are essential;

How to write each section with examples;
What other optional sections it can include;

How to order sections the right way;

What do examples of these resumes look like?
Illustrative examples of resume sections
Let's start with illustrative examples showing how sections in a resume should be ordered based on where you are in your career, whether you're a student or recent graduate, seasoned professional, or career changer.
If you want to organize your resume in a perfect but creative way, a quick and efficient solution is to use a customizable template. Just choose a resume template suitable for your profession and customize it to your needs.
Resume composition explained in 2 easy steps
So how do you create your own resume?
Follow these two simple rules:
You need to include the required sections. Your resume won't be a resume without those.

Other sections are optional and may include those that are in any way relevant to your career or the job for which you are applying.
Which sections are mandatory and which are not? Let's see!
Standard resume sections
Every resume should definitely include these five key sections:
Personal information
Summary or objective of the curriculum
Work experience
Education
Skills
These are the most important parts of the CV for a recruiter. You must not leave any of them. When you include these five sections, you have created a standard resume with all the necessary information.
Any additional sections, if tastefully added, is cherries on top.
Let's take a look at each of these five individual sections to make sure it includes everything you need. There are also a few different options for titles, some of which are more appropriate than others.
1. Resume the personal information section

What is the purpose of the personal information section on a resume?
You probably guessed it. The purpose of the personal information section on your resume is to introduce yourself to the hiring manager. Therefore, it should be the first section of your resume.
What should you include in the personal information section?
Name and surname
Telephone: If you are applying for a job in a different country, be sure to include the correct prefix code for your country. Be consistent with the number format in other documents.
Email: SUBWAY

make sure to use a

professional email r

More than a fool from when you were a teenager. Similarly, don't use your current work email. You'll lose it soon anyway!

Speak to: Generally recommended, but not necessary. Some employers send offers and rejections by mail, or they may prefer local candidates who live within a certain radius of the company. However, it can also lead to discrimination, especially when you choose to include your zip code; therefore, preferably include at least the state and city.
There's also Optional personal information you can provide:
Professional acronyms: Including any abbreviations for professional title, education, certification – you got them, go for it!
Second name: Optional. But make sure you are consistent with the rest of the documentation.
LinkedIn and other social networks: LinkedIn – Recommended if you have one. Other social events: is it relevant to work or industry? If so, you can include it.
Portfolio / Website: Again, include only if it is relevant to the job. In a creative industry it will definitely help!
Lastly, if you want to work with Candidate Tracking Systems (ATS) and not against them, stick to a simple heading, such as "Personal information" or "Contact information". Stay away from titles like "Something about me".
Why is the personal information section necessary on a resume?
Naturally, by providing all the necessary information, recruiters will have no problem contacting you and inviting you for an interview.
2. Resume summary or resume objectives section

What is the purpose of the resume summary or objectives section on a resume?
The purpose of this section is to tell the hiring manager who you are and why you are ideal for the job or what your career goals are (depending on whether you opt for a summary or objective). Think of it as a preview for the rest of your resume.
Should I use a resume or resume objective?
If you are a student or recently graduated and have some experience, please use a summary. In case you don't have experience yet, use a resume objective to explain your future career goals.
If you are a seasoned professional, use a resume summary to list your strongest professional skills and achievements.
If you are changing careers, use a resume objective to communicate your motivations and emphasize your transferable skills.
What should you include in your resume or resume objective?
Curriculum summary:
Write 3-4 lines (or bullets) of text summarizing how much experience you have, in which industries / markets.
Highlight specific skills or accomplishments that you are particularly proud of.
Tailor it to suit the job you want by adding keywords and related skills from the job list; this will also give you a head start with ATS systems.
FYI, a resume summary is sometimes also called "Professional resume" or a "Statement summary". Either one is perfectly fine to use as a title.
Resume objective:
Highlight your motivation, future goals, and any relevant transferable skills.
Keep it short and sweet, ideally 2-3 sentences long.
Connect your skills and abilities to the job you want.
Use specific keywords from the job listing to help your resume pass the ATS.
Why is the resume summary or objective necessary on a resume?
On average, hiring managers only give each resume 7.4 seconds of their time. Therefore, a good summary or professional objective is essential. You want to get their attention right from the start. Also, you will make their life a little easier because you will immediately tell them who you are. As for the goal of the resume, it can also help you convince hiring managers that you are qualified for the job despite having no relevant industry experience.
3. Resume the work experience section

What is the purpose of the work experience section on a resume?
The purpose of this section is to show that you are a great candidate for the job by providing a detailed summary of your relevant past work experience. You must provide hiring managers with an overview of the jobs and job titles you have held in the past and must demonstrate your professional growth.
What should I include in the work experience section?
Include this section in reverse chronological order based on the most recent work experiences. Include:
the name of the company you worked for;
where are you;
your workplace;
and how long have you worked there.
So you want to include:
3-5 bullets highlighting your past accomplishments for each entry. Do not use this space to simply list the job description and your responsibilities. Then it will appear that you did the least. Instead, focus on the positive results.
If you lack relevant achievements, show off your problem solving skills. Explain how you solved a specific problem in the past.
Tailor according to the needs and priorities of the employer. To do this, look up the keywords, skills, or experience that are mentioned in the job listing, and then explain how you've demonstrated that skill in your previous jobs.
Quantify your results. For example, instead of telling you "Daily increase in website visitors" I prefer to say "Increased daily website visitors by 30%."
Use professional titles for this section. By doing this, you will avoid being immediately excluded by ATS systems. ATS may not recognize outlandish titles. Just name it "Work experience".
If you're not sure how many jobs to include, check out our article. How long should a resume go back?
And in case you're a student or recent graduate, use this section to mention any relevant part-time jobs, summer jobs, volunteer work, or internships you've had (following the same tips above).
Why is the work experience section necessary on a resume?
Your employment history section is the most important part of your resume. When you think of a resume, the work experience section is probably the first thing that comes to mind. And you are not alone. Based on this section, employers determine whether or not you have what is needed for the job.
For more information, see our guide: How to describe your work experience on a resume?
4. Resume the education section

What is the purpose of the education section on a resume?
The purpose of this section is to show employers what your educational background is. By including all your relevant academic degrees and achievements in the education section, you can impress your employer and show that you have the necessary background. Also, if you have a degree from a prestigious university, it can give you an edge over other potential candidates.
What should I include in the education section?
If you are an experienced professional, simply mention your highest title. It only includes 3 things:
name and location of your university;
name of your degree or field of study;
year you started and graduated.
If you are a recent graduate, the education section is the central part of the curriculum. So why should you make sure to lengthen this part a bit? adding additional details to make it prominent. Additional information to add to the education section is:
Relevant courses
GPA (if higher than 3.5)
Awards (Dean's List, magna cum laude, subject-based awards)
Scholarships
Relevant student societies (especially if you were on the committee and played an active role)
Academic publications
Studying abroad
Internships
Name and description of the thesis
Why is the education section necessary on a resume?
Employers are naturally interested in your educational background. Some of the major companies even have specific title requirements for their applicants. You should always include education on your resume, no matter where you are in your career. However, as you gain more experience, keep it short. But if you recently graduated, it is naturally the most important part of your resume.
Check out our full guide: How to put your education on a resume?
5. Resume the skills section

What is the purpose of the skills section on a resume?
The skills section of your resume shows employers that you have the skills and abilities required for the position. In fact, a well-written skills section can help convince hiring managers to interview you. However, remember that you must also demonstrate these skills in the work experience section.
What should I include in the skills section?
Just follow these simple rules:
Write a list of your key skills.
Check the job description you want and match your skills.
Create a skills section and consider dividing the section into hard and soft skills subsections:

Hard skills they are technical skills that you were taught. For example, programming languages ​​or WordPress.
Soft skills it has to do with your personality. For example, collaboration, time management, or reliability.

Alternatively, choose relevant skills and break them down into various subsections like computer skills, marketing skills, languages, and others.
Remember, don't list skills that you don't have, that aren't relevant to the job, and skills that everyone should have.
Why is the skills section necessary on a resume?
By listing your key skills, hiring managers will immediately see that you are a potential candidate, whether they are reviewing your resume through an ATS or manually. It also makes it much easier to tailor your resume to specific jobs. Plus, having a separate skills section is a quick and easy way to get keywords on your resume. This can give you an advantage in ATS systems as they search for specific keywords.
Check out our full guide on how to write a skills section for your resume.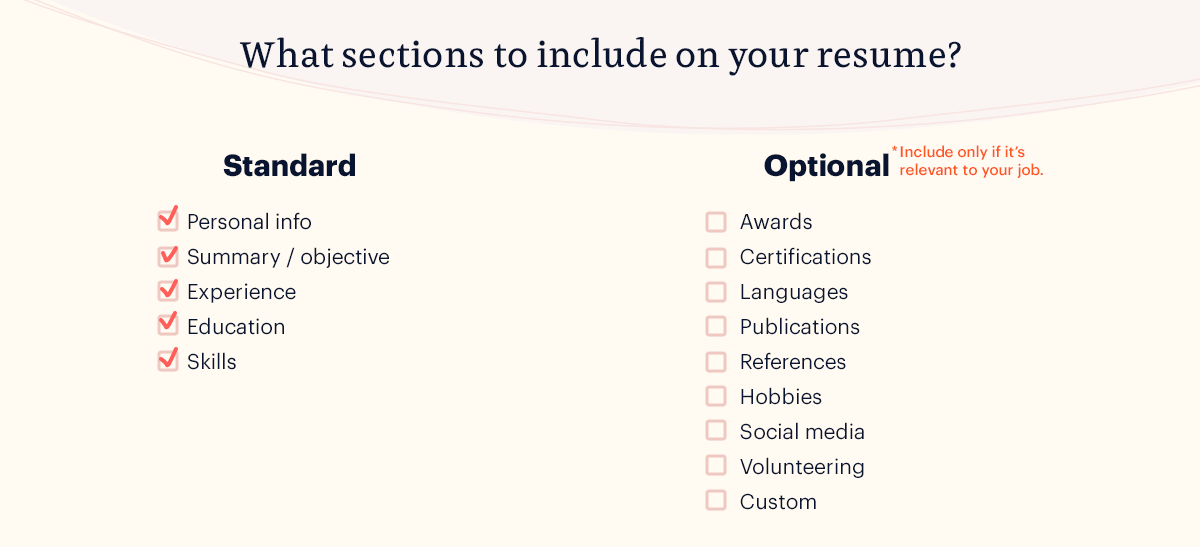 Optional Resume Sections
Aside from the five standard resume sections mentioned above, there are other resume sections that are optional. It is important to note that each of these optional sections could be incorporated into one of the standard sections.
This is why you should only include an additional section if you think you have enough to offer in that particular category. For example, if you speak one language well and only know the basics of another, do not include an additional languages ​​section.
That said, adding an optional section or two to emphasize your qualification for the job can be the icing on the cake. For example, if you work in academia, adding an additional section dedicated to your posts or references will catch a recruiter's eye in an instant!
So what optional resume sections are we talking about?
Achievements and awards
Certifications and licenses
Language skills
Publications
References
Hobbies
Social media
Volunteering
Custom sections
Let's talk about each one in more detail.
Achievements and awards section
If you think you have enough content for this section, definitely help you stand out. But keep in mind that your accomplishments should be scattered throughout your resume, especially in the career summary and work experience section.
If you decide to dedicate an entire section to your awards and achievements, be sure to prioritize those relevant to the job. Also, choose the most prominent ones.
Here's what kind of achievements you can include:
Awards for specific academic subjects or activities (for example, Award for Excellence in Chemistry 2000)
Professional Association Awards (for example, CSS Design Award)
Awards for Salesperson of the Year, Employee of the Year or Best Performer
For more information, check out our full guide: Awards and Achievements on a Resume
Certifications and licenses
A certification is basically proof that you have specific experience and skills.
Is it a good idea to include a specific section for certifications on your resume? If you have multiple certifications that are important and relevant to your desired job, yes! Demonstrates your willingness to learn and desire for personal growth.
Languages
You can include languages ​​as a subsection in technical skills, or you can create a separate resume section for languages ​​only.
Only do the latter if speaking a specific language is a key part of the job, or if speaking many different languages ​​will help you get the job.
List the languages ​​using a single language proficiency scale. Instead of using tables to describe your level of proficiency, use words; Tables may not be registered in ATS.
For more details, see this article: How to List Language Skills on the Resume (with Proficiency Levels and Examples)
Publications
If you work in academia or a scientific field, publishing your research is a great achievement. If you have multiple posts, it may be a good idea to have a separate section for them on your resume.
The important thing here is to correctly format the information about the publication, that is, make sure to use the common citation styles correctly (Harvard, APA, MLA, etc.) Choose one based on the author's preference or based on the discipline (for example, the APA style is commonly used in the field of psychology).
References
Including references on your resume is no longer common practice. However, in some situations it is acceptable to include references. This is when:
His reference is someone well known in the field;
You are a recent graduate;
The job listing specifically asks you to include references on your resume.
Hobbies
People tend to view the hobby section as a redundant "filler." While this may be true in some cases, it can also be very helpful. This is why:
Today, many companies are looking for candidates who are not only good at their job, but also fit well into the company culture. It shows you as a real person and not just an employee. Plus, it's a good conversation starter for your job interview.
So if you decide to add the hobby section, make sure to be really specific. For example, instead of "Read", say "Lover of the historical fiction novel".
Check out this guide to learn more about including hobbies on a resume.
Social media
Hiring managers will Google you at one point or another. Stay one step ahead and use it to your advantage. Include the social networks you want them to see. Creating a separate social media section can be a great way to go.
Even LinkedIn It is always a good idea, as it can serve as an extension of your resume. Make sure to also include any online portfolios, personal websites, or even your Instagram if you work in a creative field.
Remember, your social media can also prevent you from getting a job. So make sure your social media presence is refined and sophisticated.
If you decide to include only 1-2 social media profiles, you can put it in your personal information section.
Learn more about including social media on a resume.
Volunteering
Adding a volunteer section on a resume can really help you stand out. Show your skills, your motivation and that you take the initiative. And hiring managers love that. It's also helpful to include a volunteer section if you have limited professional work experience.
This also means that if you have a lot to offer in the work experience section, don't include volunteering at the expense of omitting important content.
Include:
Organization name's;
Duration;
Your title / job title;
Explain what you did and what you accomplished.
For more information, see this article: How to Include Volunteer Experience on a Resume.
Custom sections
You can add a custom section to your resume if you want to emphasize an accomplishment that doesn't fit into any of the conventional categories generally found on a resume.
For example, if you are a programmer, you can create a "Custom projects" section in which you detail your work. If you are a copywriter or journalist, you can make a "Media for which I wrote" section. If you are a scientist, create a "Laboratory skills" section on your resume.
Almost every industry has the potential for a custom section that is distinctive to that discipline.

How to organize the sections of your resume?
The last step in creating a perfect resume is organizing your sections in the right way.
The personal information section and the summary or objective of the resume should always come first. However, depending on where you are in your career, you may want to organize your resume differently.
Here is an ideal resume composition suggested by our in-house HR expert for various professional situations:
Order for students or recent graduates:
Personal information
Resume summary / objective
Education
Work experience
Skills
Volunteering and other optional sections
Order for experienced professionals:
Personal information
Curriculum summary
Key professional skills
Work experience
Education
Certifications, technical skills and other optional sections
Order for career changers:
Personal information
Resume summary / objective
Skills
Work experience
Education