Imagine that you can get solid job search advice directly from someone with a background in hiring and human resources. Wouldn't that be helpful? Now you can do just that thanks to our new series of interviews Recruiter Reveals! Every month I interview our resident human resources expert, Christy Morgan, on various job search topics, be it resumes, cover letters, job interviews, or anything related to a fringe career.
Your resume and cover letter were super impressive. You got the call. Now you just have to seal the deal.
Our resident job interview coach and former hiring manager Christy will help you set up your next job interview.
At the end of the day, it's not rocket science. It's just a job interview. If you were invited, it means that you already look good on paper. The company simply needs to see you in person to confirm that you are a match.
Let us show you how to convince them that it is!
In this interview, you will discover:
"Must Know" of Job Interview Preparation;

What else to prepare for if you have a virtual interview;

What do hiring managers notice about you when they first meet you?

What is the etiquette of the in-person interview during COVID?

What is the key to successful job interviews?

Things to never talk about in a job interview;

What other mistakes can affect your chances;

How to track the right way.
You have experience doing job interviews as a hiring manager, so let's take a look from your perspective. Suppose you have invited me for an interview. What do you expect from me as a job candidate?
The first thing I hope is that you investigate the company and the position. Go to the company's website and learn all you can about them. Also go to sections like Media, search for quotes or articles. Visit your LinkedIn profile. See who your main competitors are. Look at the things that they are doing really well right now, or also the things that they are not doing so well, because depending on your role, you could use that in your examples in your interview.
If possible, even look at the person who is interviewing you (in this case I: D). Of course, I do not recommend tracking someone's LinkedIn profile, it is better to do it in private mode. Also, if possible, look at the profile of the current / former role holder and the job description they have included on LinkedIn. This will give you an idea of ​​the actual role and successful hires previously.
Anything else?
I also hope you get to know his resume and answer questions about his experience without long pauses. So, go through your resume several times and try to think ahead of some relevant examples that you can refer to, for example a successful project. Write them down in STAR format (Situation, Task, Action, Result). and you'll have some great examples ready up your sleeve.
Do you also recommend preparing for common job interview questions?
You can't accurately predict what they're going to ask, but one thing you can do is practice answering questions about your specific role type. For example, if you are applying for an accountant job, Google the most common questions for accountants. You can also see the company on Glassdoor; sometimes people put interview questions for particular roles there. And don't forget to practice your STAR examples of notable accomplishments.
That's a lot of preparation that some people prefer to skip. What if you see that I did not prepare for a job interview?
It somehow influences your perception of the person. Companies want to see that you are interested in them and in their role. Therefore, you should always prepare and do your research. There is a lot of competition out there and if you don't come prepared, it can influence your decision.
It's not just from the subjective perspective of the hiring manager. Objectively, if you are not prepared, you may not provide them with enough objective evidence to support what you have on your resume. Preparation is very important. Also, I think that a lack of preparation can affect your confidence and performance in an interview, especially if you are nervous.
Ok, the next step is probably to prepare my outfit for the job interview. What do you suggest? Should I check the company's website and dress based on how formal they are?
Yes, exactly. Sometimes you can tell your dress code by looking at what employees are wearing in the images on your website. If not, check to see if anything is mentioned on sites like Glassdoor. Check the voice of your brand and if they are serious or friendlier. Or if you know someone who works for the company, ask them. If all else fails, go for business casual. Not too formal, not too informal, something in between.
Let's say that I have prepared and it is the day of my job interview. What should I bring?
Bring a copy of your resume, just in case. If they ask you questions about your resume, you'll have it ready. It also means that you can have some discreet pointers ready on specific points, if you are particularly nervous or want to discuss certain aspects of your experience.
Now, during the coronavirus pandemic, you can also bring your own pen, just in case. 😀
Yes, that's a really good point. 😀 Bring your mask too, of course, hand sanitizer too. Also, wait to see if the interviewer shakes your hand during the pandemic, don't offer it yourself. Because it can be a very strict company with distance and, if you communicate, you are already making a negative impression. Just watch what they do and start from there. It won't make them feel uncomfortable and it will show that you follow the rules and respect others.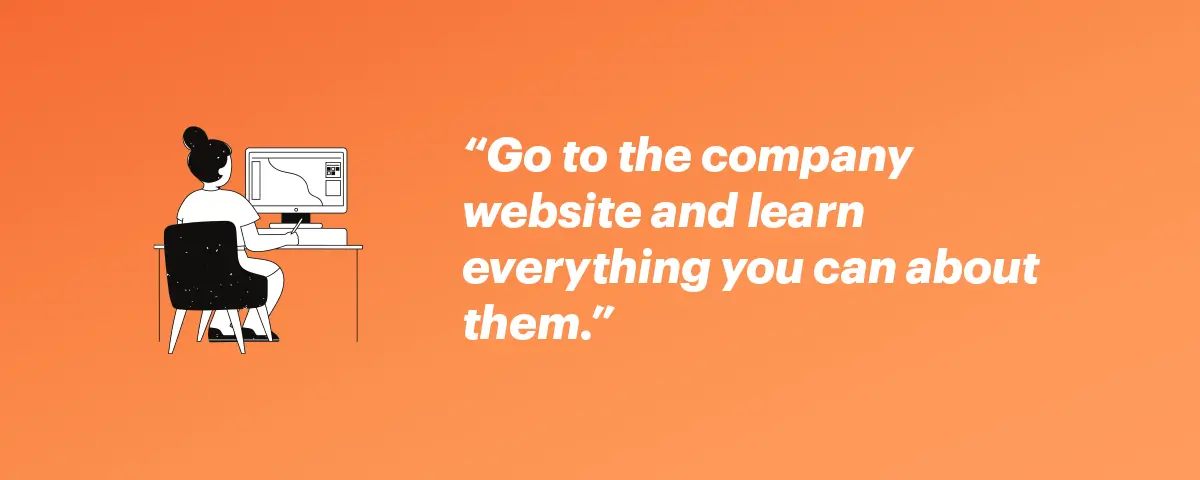 What are the first things you will notice about me when you come in for a job interview?
Attitude, kindness, expressions, what are you wearing and if it's appropriate, if you look nervous or confident, if you're someone I'd like to work with or hang out with. This kind of things. Pre-pandemic, also the handshake could say a lot about the person.
And what things do you want to know about me during the job interview?
Generally, if you fit in well. Your resume tells me that you potentially are, so the interview should confirm that. Are you someone who fits into the company culture? Are you someone I want to work with? Do you seem sincere? Do you think you are interested? These are things that I am also looking for.
Suppose we made our introductions, now you, as the hiring manager, proceed to the job interview. What is your favorite interview question that you will ask me?
I can't think of my favorite, but I can tell you which questions I don't like. 😀 For example, "If you were an animal, what animal would you be?" I think a lot of companies ask these kinds of questions because Google really started the trend for non-traditional questions, so they think doing the same thing will make them look cool and forward thinking. But the big difference is that Google pioneered these types of interview questions. They are based on solid research and are requested by highly trained recruiters who understand the methodology.
When I was working in Dublin years ago, my company was hiring for Google. I remember my colleagues who searched for people said that Google candidates had to do something like 9 or 10 rounds of interviews. They ask you seemingly strange questions, but the point is that they have investigated. Their questions are designed that way for a reason and they know how to ask and analyze them. It is a science.
Many companies see that Google is doing it and say "Oh, let's do the same!"But they haven't done the research, they don't fully understand the psychology behind the questions, and the interviewers aren't necessarily trained in the methodology. So, these types of questions are not necessary in many job interviews; I believe that each question should have a clear purpose.
So what kind of questions would you ask me?
I myself am sticking to very practical questions. I am sorry! It's nice that you like being a dolphin, but I'm not sure it affects the way you do your job (at least, I hope not!). At the end of the day, it's a job interview, not rocket science. You seem to fit the role well, so we need to see if you are compatible with us and if we are compatible with you. Therefore, you would only ask relevant questions about your professional experience and skills, or something related to work and company, not questions about animals. 😀
So do you think these general questions are completely redundant?
Too general questions, yes. For example "Tell me a little about yourself". For me, these are filler questions, too vague. Anyway, you should already know this from his resume. I think the interview questions should always be relevant, related to work and also to culture.
And what should I do to specify my answers?
The preparation we talked about earlier is absolutely essential because it will influence your confidence, how you cope, your ability to answer questions accurately and relevant. That is number one. Also, prepare good and relevant examples so that you can back up your experience with evidence.
Apart from the examples, I recommend that you prepare 2-3 questions to ask at the end of the interview. This part is super important. Of course, I'm not talking about salary questions, but relevant and highly accurate job-based questions, perhaps focused on something you've learned about them. For example, you are applying for a Product Manager position and may ask "I understand that product x was supposed to launch nationwide in March 2020. So far, it's only available in California. I'm curious about the reasons for this and your thoughts on what the new Product Manager should address. , if you have anything, to complete the deployment. " Something like that.
As for the salary issue, should I wait until you (the hiring manager) start talking about it?
Yes, never be the first to mention salary in the interview. Of course, we all want to get paid well, but according to interview etiquette, you shouldn't start this conversation yourself because it will seem like you only want the job for the money. So, wait for them to bring it up.
Should it be discussed in a job interview or later when they call me and are interested?
It depends on the individual recruiter. If they haven't evaluated it yet, they will probably bring it up during the interview, but some might discuss it later when they are ready to move on with you. The general rule of thumb is never bring it up yourself first.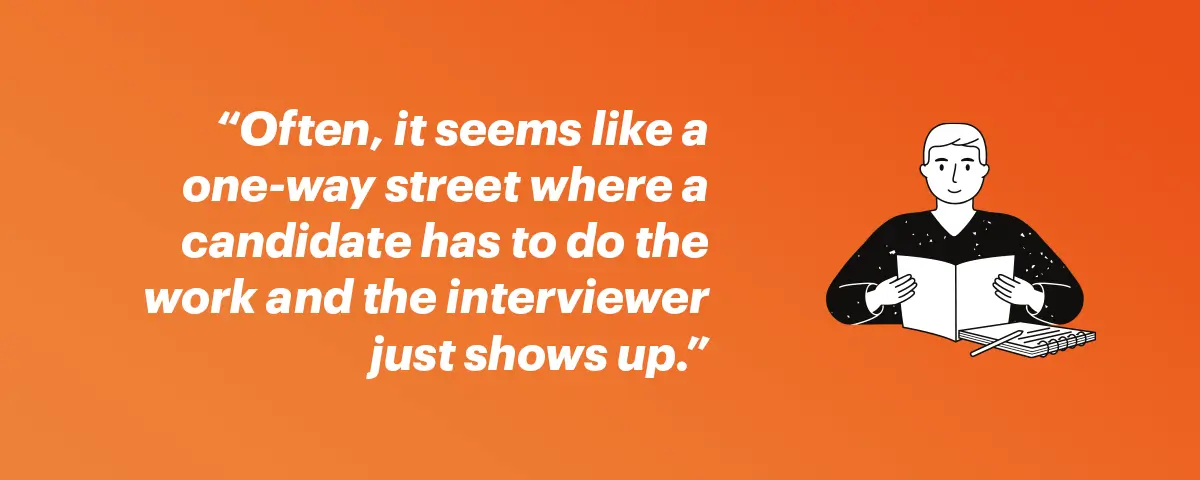 What are some other things you should never talk about in a job interview?
Try not to badmouth people. You may be asked why you are leaving your current job and you should definitely not say "Oh, because my boss is terrible!" Try to avoid that, whether it is true or not. Stick to objective and relevant things and avoid coming across as negative.
Because they judge you based on everything you say, and once again, cultural fit is important today. They might think that if you are speaking ill of your current boss or colleagues, you may be speaking ill of them as well. You can say that you are trying to advance your career, or that there are no career opportunities available or that you are restructuring due to the pandemic.
Also, keep things away from politics or gossip.
When it comes to a virtual job interview, what is different in terms of preparation? Compared to regular job interviews.
As for researching before a job interview, you should do the same preparation. Then it comes to other things. When you normally do a face-to-face interview you are in their environment, when you do a virtual interview, you are sharing your environment. So you need to make sure your background and lighting are good, that your bed is not visible for example. 😀 Just making sure it looks respectable. Also, try to minimize background noise as much as possible, if you have children, for example. However, if the interviewer feels discouraged that his cat is sleeping on his lap, he might take it as a sign that it is probably not a company I would like to work for.
How can I make a great first impression virtually, when we don't shake hands, can't see much of what I'm wearing, etc.?
Eye contact, smile, sympathy (no also although friendly). Act with confidence!
On his LinkedIn, he shared a story in which a candidate was rejected due to problems connecting to an MS Teams video interview, even though the interview went ahead. The company questioned the candidate's technological abilities. Does this happen often?
It's the first time I've heard something like this, because it was one of my clients. But it happens more often, I'm sure. I think it is unfair because the technology can fail, sometimes the connection is not that good, there may be children doing homeschooling at the same time, so the WiFi can have a little traffic. These things just happen at both ends. I feel like the interviewer should give the benefit of the doubt and at least reschedule the interview.
But this is a good point in terms of virtual interview preparation – check your technology. Make sure you know how everything works, if it is working well and if you have it up to date. Make a quick test call to see if the microphone and camera are working properly.
Did your other clients also have a bad experience with virtual job interviews?
Yes, and I think it was even the same customer. He had a virtual panel job interview and everyone was on his phone and not paying attention to him, even though he was answering questions and trying to interact with them. So obviously he didn't progress with that.
That is so rude.
Exactly. They expect candidates to be prepared, professional, on time, know how to use technology, etc., so they have to play their role too. Often it seems like a one-way street where a candidate has to get the job done and the interviewer just shows up. But both should be professionals.
With remote jobs, people can now apply for a job anywhere. Do job interview techniques vary? Should people prepare differently depending on where they are applying?
Yes, there are some general differences depending on the country. For example, some Asian countries tend to be more modest, Americans like to appear confident and expect you to talk about your achievements, etc. Especially with telecommuting, I recommend Googling the typical corporate culture of the country in question and also common interview techniques. Because they may be a little different, depending on the region and the country.
After the interview, virtual or not, do you expect me to follow up?
I think it's always good to send a thank you note later. Send it the same day, but give it an hour or two. Something like "Thank you very much for your time, I really appreciate meeting with you." Also, point out one or two things from the interview, eg. Ex. "I enjoyed learning more about their current infrastructure projects and their ambitious 2021 expansion goals." Whatever it is, just reference a few things you learned during your interview. Because then it is not generic and has a greater impact.
As for follow-up, you can ask at the end of your interview what the next steps are and when they should contact you. And then if they don't get back to you in a reasonable amount of time, you can follow up with a quick message. Just don't be also enthusiastic and aggressive. Generally, it is reasonable to know the result of the interview within a week, ideally sooner.
Have you ever blacklisted someone due to over-tracking?
No, I would not blacklist them, but maybe I would just have a negative impression of them.
What other little thing would make you reject me (or select me)?
Lack of preparation tends to put me off because you can see that they don't care. Also canceling the interview at the last minute for non-serious reasons, especially if you had told me before.
On the other hand, I always have a positive impression if someone seems ready, it gives me more depth to their resume, it seems like a perfect fit and seems like someone who is going to be good to work with. Even if they have had to reschedule, this is about how they have handled it in terms of consideration for the other person's time.
Key takeaways: how to succeed in an interview
Preparation of the interview:

Know his resume and do your research. Check out the company's website, its Media section, LinkedIn and other social media profiles, etc. Know everything about work. Prepare relevant examples that demonstrate your skills using a method like STAR. Check out the common interview questions for your position and also the company job interview questions on Glassdoor. Prepare relevant questions that you will ask at the end of the interview.

Preparation of the virtual job interview:

Do the same research, but also check the lighting and make sure the background is professional. Try to minimize background noises. Test the technology: the app, the microphone, the camera, etc. If it is an interview with a remote company in a different country, also check the typical corporate culture in the country in question and also the interview techniques.

Job Interview Suit:

Check the company's website: look for information about their dress code or see if they are formal or more informal. Alternatively, Google or check Glassdoor. If you know someone who works for the company, ask them. If all else fails, go for business casual.

In-person interview etiquette during COVID:

Bring your mask, hand sanitizer, and your own pen to a job interview. Also, wait for the interviewer to see if they come up and shake your hand, don't offer it yourself.

Things not to talk about:

Don't ask about salary first, wait for the interviewer to bring it up. Also, don't badmouth your boss or former colleagues, don't talk politics or gossip.

Most common mistakes in job interviews:

Not coming prepared, not understanding the company or the job, not asking the right questions at the end of the job interview, being too interested in follow-up.

Tracing:

At the end of the interview, ask about the next steps. If they don't communicate within the agreed time frame, follow up with a short message. Also, send a personalized thank you note after the interview (same day).